Hunter safety requirements
in Florida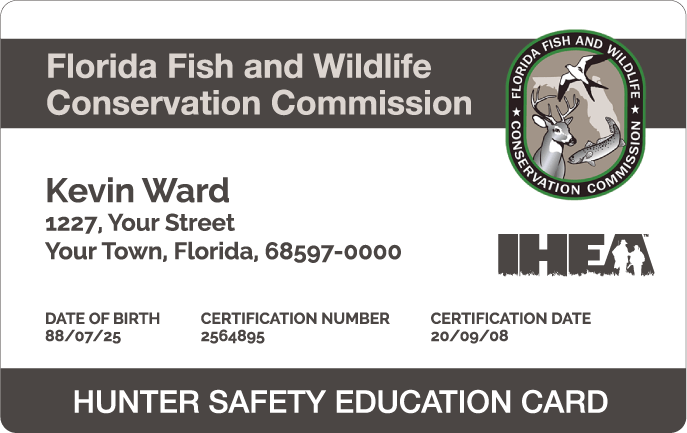 Hunter Education is required of all persons born on or after June 1, 1975.
There is no age limit to take this online hunter safety course.
You do not have to be a resident in the state of Florida to qualify for the online course.
All Florida students need to schedule and complete a field day course as required by Florida law. Upon successful completion of this online hunter safety course, students will be issued a certificate voucher proving they've passed the Florida hunter safety course. This voucher will need to be presented at the field day course.
You may find the course schedules here: https://public.myfwc.com/hgm/huntersafety/clsmap.aspx
Hunter Safety Course
3 easy steps
Step 1
Study at your own pace
Start the course for free
Pay only (online course, the quizzes, and online certificate included)
Complete an easy-to-read study guide approved by Florida Fish and Wildlife Conservation Commission
Step 2
Take the final test
Pass the final test
Free retries - Risk free!
Step 3
Print the Certificate
Print your hunter safety certificate
Attend a field day
Go hunting!
Online Study Guide
Chapter content
Wildlife conservation
Wildlife identification
Conservation laws
Chapter 3
Survival and First Aid
Orienteering
Importance of planning and preparation
Emergency situations
About firearms and ammunition
Shooting skills
Fire maintenance
Chapter 5
Bow Hunting and Muzzleloading
Bows and arrows
Muzzleloading firearms
DOs and DON'Ts
Chapter 6
Responsibilities
Ethics
Responsible hunting
Landowner
Treestand safety
Fall arrest system
Types of stands
All terrain vehicles
Boating responsibility while hunting
Safety and trip planning
Chapter 9
Additionnal concerns
Turkey hunting
Trapping
Code of conduct
You may ask
FAQ - Florida Hunting Safety Course and Hunting License
Must I take this course to get a hunting license?

Hunters born on or after June 1, 1975, and 16 years old, must pass a hunter education course before purchasing lifetime hunting license.

Is the Beasafehunter hunter course approved by the state of Florida?

Yes. The Florida Fish and Wildlife Conservation Commission approved the Beasafehunter hunters safety course.

What is the cost of the Beasafehunter online hunting safety course?

The cost of the Florida Beasafehunter course is .

Is there a minimum age to take this online education course?

There is no minimum age requirement to take this online hunter education course.

Must I complete the course in one sitting?

You can complete the Florida hunter course in one sitting, or spread it out over several days. You go at your own pace.

Why choose Beasafehunter.org?

There are hundreds of illustrations and videos to help you better understand the content.
You can access our online hunter safety course 24/7
Our online support is available by phone, email or chat.
We offer multi-platform training.
OUR PLEDGE! "Satisfaction guaranteed or your money back"!

How can I get a replacement for my Florida Hunter Education Card?

You can replace your education card online through the Florida Fish and Wildlife Conservation Commission at https://public.myfwc.com/hgm/huntersafety/student.aspx in order to purchase a Florida hunting license.

Must I reside in Florida to take the Beasafehunter Course?

You do not have to be a resident of Florida to take this online hunter safety course.

What passing score must I get in the quizzes and final test in order to be certified?

The passing mark for the unit quizzes is 80%. If you don't pass the quiz, you must re-study that particular section and then re-take the quiz.

The final exam passing mark is 70% and you have two attempts to succeed.

Is my Hunter Education Certificate good in other states?

Every U.S. state that demands a Hunter Education Certificate accepts the Florida Hunter Education Certificate. As well, Florida will accept Hunter Education Certificates from other states that conform to IHEA requirements.

You should follow your Florida hunter safety course in the State where you are resident.

Is there a time limit to complete an approved Hunter Safety Course?

You must spend a minimum of seven (7) hours studying the Florida Fish and Wildlife Conservation Commission Approved hunter safety course, but you can take more time if you wish. You will then have as long as you need to complete the final exam.

Is it possible to see the content of the course before starting my training?

Of course, all you have to do is click on Hunters Safety Course Study Guide. We have created a Hunter Safety Practice Exam to test your knowledge!

Does the Florida Hunter Card expire?

No. It is good for life.

How do I contact customer support?

You can send an email to support@beasafehunter.orgor call us at 1 833-548-6837 (HUNT).